Residential Roofing Companies Near Me
Steep Slope Roof Construction
We at Ramos Roofing have provided reliable steep slope roof assemblies to our clients since 2002. Consumers have a wide variety of products and materials to choose from when installing a new roof covering. Homeowners must consider important factors such as location, wind exposure, load bearing, insurance coverage, local code requirements, and budget when determining the appropriate materials necessary for their home. Countless products are available to meet or exceed minimum building requirements. Some manufactures offer energy efficient products while others offer impact resistant products. With so much to choose from it is important to take into account all factors to make the best decision. The personnel at The Ramos Roofing Company can help homeowners simplify the process of selecting the finest products and materials for you. Our experience with many types of roofing materials shall make the decision process an easy one.
Asphalt Composition
Laminated or architectural shingles consist of two layers bonded together with asphalt sealant. They are coated with ceramic granules available in many color combinations. Some are available with leachable copper helping protect them from algae, discoloration, and protection against moss.
Some manufacturers offer asphalt shingles with a Class 4 rating. This classification makes these asphalt shingles hail resistive and warranted to resist a 2" diameter hail strike. Select insurance companies offer homeowner premium discounts when said products are used, making impact resistant materials a popular choice.
Manufactures offer asphalt shingles with wind warranties and wind ratings. Counties and municipalities many times focus on wind ratings. Wind ratings are established by UL and ASTM testing. For example, a product may have an 80 mph wind warranty and still meet a 110 mph Class F ASTM D3161 wind rating.
Some manufacturers offer asphalt shingles that are energy efficient. Homeowners may qualify to receive a tax credit up to $1,500.00 for installing an energy efficient roof. Energy efficient materials are not offered by all manufacturers and are available in fewer colors.
New Installation
Manufacturers are very specific about installation procedure. It is imperative materials are installed per manufacturer recommendation to prevent voiding a manufacturer warranty. The Ramos Roofing Company ensures proper installation on every job.
Asphalt shingles can be installed on roof slopes greater than a 4/12 pitch. They can be installed between a 2/12 pitch and a 4/12 pitch roof slope if additional roof enhancements are completed. Asphalt shingles should never be installed with a roof slope less than 2/12 pitch. Rolled roofing or low slope roofing products are used for roof slopes less than 2/12 pitch.
Many manufactures require additional enhancements for installing asphalt shingles on very steep roof slopes. Installing asphalt shingles on a Mansard slope 21/12 pitch require additional adhesive to prevent shingles from delaminating. Installing asphalt shingles outside of manufacturer specifications would likely void a material warranty.
Residential Metal Roofing
Metal roof construction has been practiced for many years. Metal roofs have always been known for durability. It is common for low grades of agricultural or utility steel to last 20-30 years. Various metal roofs have been known to last between 50-100 years. Numerous types of metal roofs are produced including corrugated galvanized steel, metal panels, metal tiles, and coated metal shingles.
Metal roofs can withstand hail damage with most receiving a Class 4 impact rating. As an incentive, many insurance companies offer premium discounts for impact resistive materials; however, some insurance carriers do not recognize aesthetic damage caused by hail on metal roofs.
Metal roofs are known to be used in severe climate areas with high annual snow fall. These roofs have a perfect shedding design allowing roofs to efficiently displace snow from a roof.
Wood Shingles
Wood shingles are available in #1 grade, #2 grade, and #3 grade. The best wood shingles are made from the heartwood of large cedar trees. They are cut thin with a tapered smooth sawn surface on both sides giving them a beautiful appearance once installed.
Shake Shingles
Shake shingles are similar to wood shingles but are heavier and larger than wood shingles. Also, shakes have a more rugged look with added variation in texture and size. These are available in three different thicknesses including heavy split sawn shake, medium split sawn shake, and #1 taper sawn shake.
Tile
Tile roofs last a significant amount of time. A great number of tile roofs have been known to last over 50 years. Tile will neither rot nor become damaged by insects, and is fire resistant. Tile is available in many different sizes, types, shapes, textures and colors. Tile roofs are heavy and many times require additional roof support. Roof tiles are cheaper than asphalt shingles; however, the additional roofing components needed to complete a tile roof assembly makethese jobs more expensive.
Roof Ventilation and Accessories
Proper ventilation of a roof considerably important to overall performance and lifespan of a roof assembly. According to most building codes, you should have one square foot of ventilation for every 150 square feet of attic floor space. Ventilation of your roof can be accomplished using several different methods and products:
Ridge Vent
Such products are generally installed along a roofs ridge. Some ridge vent products are available for installation on roof hips. These products add height to a roofs ridge line and are covered with standard ridge cap shingles. Installing a ridge vent may limit the installation of high profile hip and ridge shingles.
Box Vents
A common method of roof ventilation, these covered openings allow air to escape from a roof. They are available in metal, plastic, and aluminum. These products are generally installed towards the top of a roof line with even spacing.
Electric Power Vents
Power vents utilize a thermostat and humidistat to control the heat and moister inside a roof attic. Power vents are more efficient than box vents and therefore less are usually required to meet ventilation code requirements. These products require electricity.
Solar powered Vents
Solar powered vents are similar to power vents, however do not require a power source. Like a power vent, they utilize a thermostat and humidistat to control heat and moisture. Solar vents store energy throughout the day and use it as needed. Solar vents have gained popularity as they have become more economical and readily available. This choice is green conscious and has many benefits for the home and our environment.
Seamless Gutters
Displacement of moisture from your property is vital to ensuring the integrity of your property. Water, snow, and ice can damage a building's exterior. It is essential to keep moisture away from a building to protect siding, windows, concrete walkways, and foundations. The Ramos Roofing Company installs seamless gutters to protect your home. Our gutter systems are seamless and available in many colors. Gutters assemblies are available in aluminum or cooper.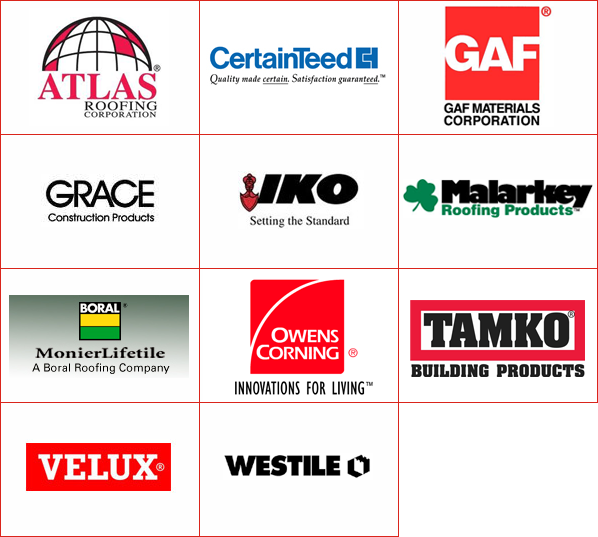 Contact Ramos Roofing
To schedule a roof estimate and inspection, or for more information contact us at your earliest convenience. We provide complete commercial and residential roofing services in Adams, Arapahoe, Boulder, Broomfield, Denver, Douglas, El Paso, Jefferson, Larimer, and Weld Counties in Colorado. See our Roofing Service Areas.