Colorado Green Roofing Company
Ramos Roofing can save you energy costs via our ENERGY STAR® rated roofing products. We utilize preferred green roofing brands in Colorado offering reflective technology roofing shingles that help reduce temperatures in your attic. These green roofing materials save energy by reflecting the sun's rays which keeps roofs cooler, resulting in an energy efficient and comfortable living space in the home.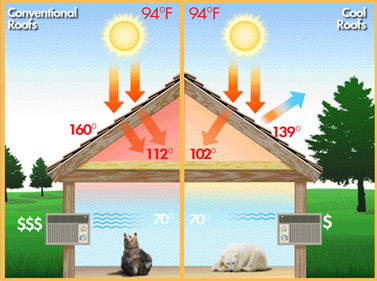 You not only get energy savings but tax credits up to $500 when you install Colorado green roofs!
Get on board with the green revolution with ENERGY STAR® rated roofing shingles. Your Colorado home will stay cooler in the summer months, saving on air conditioning costs.
Our preferred roofing brands for Colorado green roofing include Owens Corning, GAF, MonierLifetile, and others.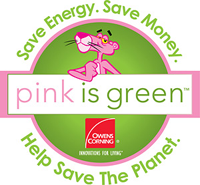 Timberline® Cool Series Energy Saving Shingles
You get both potential energy savings and tax credits when you install GAF Timberline® Cool Series Shingles.
With GAF reflective technology roofing products you can join the green revolution. Their Timberline Cool Series roofing shingles are highly reflective shingles that help temperature reduction your attics, resulting in your home will staying cooler in summer and reducing air conditioner costs.
GAF's Timberline Cool Series shingles use specially designed roofing granules that reflect sunlight more than traditional shingles. The transfer of heat to your attic is minimized, allowing you to keep your home cooler in the summer.
Not only that, Timberline® Cool Series shingles are made with the patented StainGuard® algae protection to assure the beauty of your roof against unsightly blue-green algae!

Certainteed. Featured Roofing Green Products from Certainteed include Composite Slate Shingles, Solar Reflective Asphalt Shingles, and Solar Reflective Roofing Membrane systems.
Symphony composite slate shingles is a masterpiece of synthetic slate design with enduring qualities of tooled craftsmanship, natural beauty, and harmony. Symphony is a specially-engineered composite roofing shingle that mimics the look and feel of natural slate, but is lighter, more durable and a fraction of the price. The Symphony product line has earned the designation as an ENERGY STAR® Qualified Product, a label given to products that use less energy, save money and help protect the environment.
Landmark Solaris™ from CertainTeed Roofing is a brilliant energy-saving breakthrough that puts cool roof technology to work. Landmark Solaris is a steep-slope, solar reflective asphalt roofing shingle which contains advanced colored granules that reflect the suns rays and can reduce a roofs temperature by as much as 20% in the summer.
As an advanced hybrid roofing material, Landmark Solaris combines the traditional beauty of asphalt shingles with the ecological benefits of cool-roof technology. The result is a long-lasting ENERGY STAR® rated product.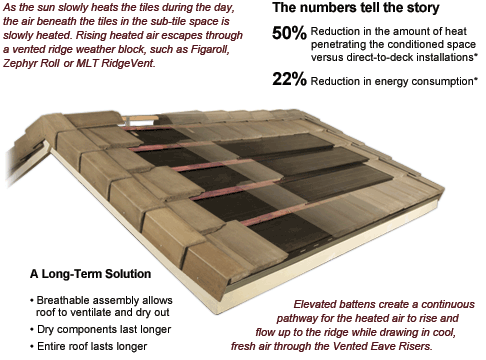 MonierLifetile manufactures products that meet Cool Roof Rating Council guidelines, allowing homeowners in some regions to receive utility rebates. MonierLifetile's CRRC rated products help reduce the heat island effect found in urban areas and in general, increases the overall energy efficiency of the building. Use the link below to view available products by region:
Green Roof Installation Contractors
Contact Ramos Roofing
To schedule a roof estimate and inspection, or for more information contact us at your earliest convenience. We provide complete commercial and residential roofing services in Adams, Arapahoe, Boulder, Broomfield, Denver, Douglas, El Paso, Jefferson, Larimer, and Weld Counties in Colorado. See our Roofing Service Areas.