Energy Efficient Roofing Denver
Ramos Roofing can save you energy costs via our ENERGY STAR® rated Colorado energy efficient roofing products. We utilize preferred energy efficient roofing brands that offer reflective technology roofing shingles that help reduce temperatures in your Colorado home and attic. These roofing materials save energy by reflecting the sun's rays which keeps Colorado roofs cooler, resulting in an energy efficient and comfortable Colorado home.
You not only get energy savings but tax credits up to $500 when you install Colorado energy efficient roofs!
Get on board with the green revolutions with ENERGY STAR® rated roofing shingles. Your home will stay cooler in the summer months, saving on air conditioning costs.
Our preferred roofing brands for energy efficient roofing in Colorado include Owens Corning, GAF, and others.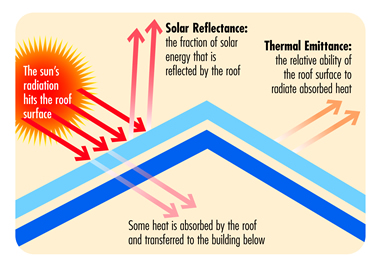 Owens Corning can help save energy costs in areas with substantial sunlight through their ENERGY STAR® rated roofing products. Owens Corning TruDefinition® Duration®, Duration® Premium, Duration®, Oakridge® and Supreme® shingles in Shasta White and Duration® Premium Cool Shingles in Frosted Oak, Harbor Fog and Sunrise are ENERGY STAR® rated for their ability to reflect the sun's rays and keep roofs cooler, resulting in a more comfortable living space below.
GAF offers many reflective roofing solutions.
EverGuard®… TPO and PVC
Timberline®… Cool Series shingles
Topcoat®… elastomeric coatings
GAFGLAS®… EnergyCap™ BUR
Ruberoid®… EnergyCap™ APP and SBS
Reflective Cool Roofing
Garden Roofing
GAF also offers the industry's widest selection of Energy Star® qualified and Title 24 roofing systems (may also qualify for LEED credit)